Digitalya


Digitalya, 2021







Digitalya

is a musical journey exploring dance, digital identity, love, change, plant medicine, layering, ambience, and meditation. I have been working on the songs since June of 2020, so it has been a long journey of music editing. Throughout the tracks, I utilize french horn, digital synthesizers, my own voice, sampling, and the analogue synthesizer Novation Bass Station to create my songs. The second track, Shipping Fees, features Meg Spectre, my collaborator and close friend, who is also a student at MICA.

View full album here

︎ ︎ ︎








The Pool
, 2020
The Pool is a large-scale (9 ft by 16 ft) painting using ink, highlighter, and blacklight-activated acrylic paint on rolled paper. The universe I portray consists of two mirrored sides with a central pool of water that is bordered by the moon and the sun.
On the left side, the moon overlooks all of the entities that reside there. Their world is always dark; they experience moonly feelings, like lethargy, lack of motivation, addiction, and apathy. However, by the light of the stars, they engage in moonly activities, like worship, dance, makeup, healing, and witchcraft.
On the right side, the creatures of the sun are in many ways the opposite. inquisitive and bright, they seek knowledge and to understand the universe, love, and existence, analyzing everything they perceive, leading them to feel hyperactive, anxious, and overwhelmed, but also full of spontaneity and life. Time is important and closely watched, even though the light of the sun will never leave them in the dark.
Those who reside close to the center of the pool find peace.

Protection Magic
, 2020
Protection Magic was painted with sigils embedded as a mural using protective magic for one of my friends. I painted the piece into the wall of her bedroom, and the entities manifested out of the creatures that she began seeing in the paint, particularly the repeating image of a snake and a dog, about to collide.

Fae Collages
, 2020
Fae Collages
, 2020
I created the work to communicate with the realm of the fae, with a focus on digital sexuality and feminine power. The barcodes incorporated lead to my website.

THISCRUSH.COM
, 2020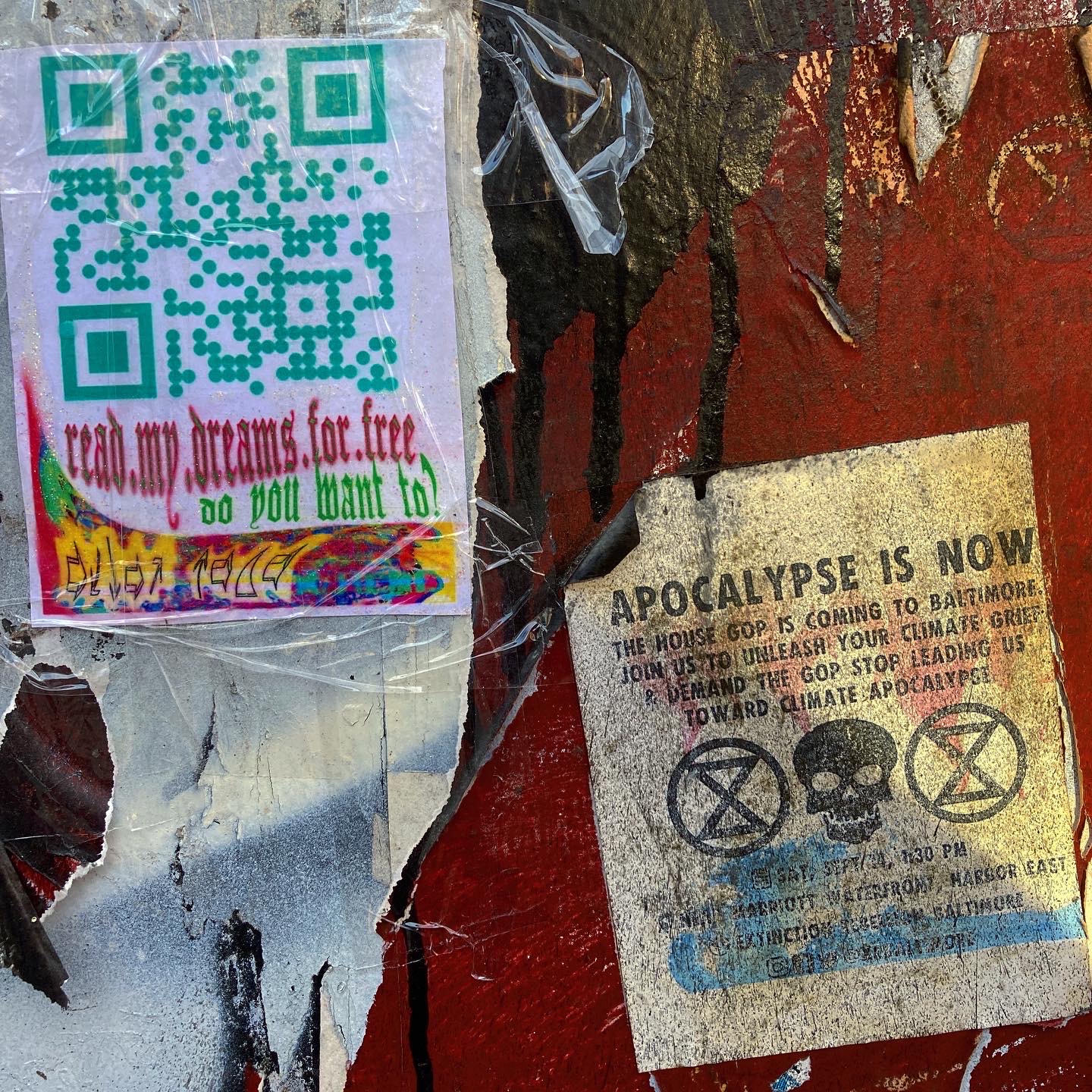 QR Magic
, 2020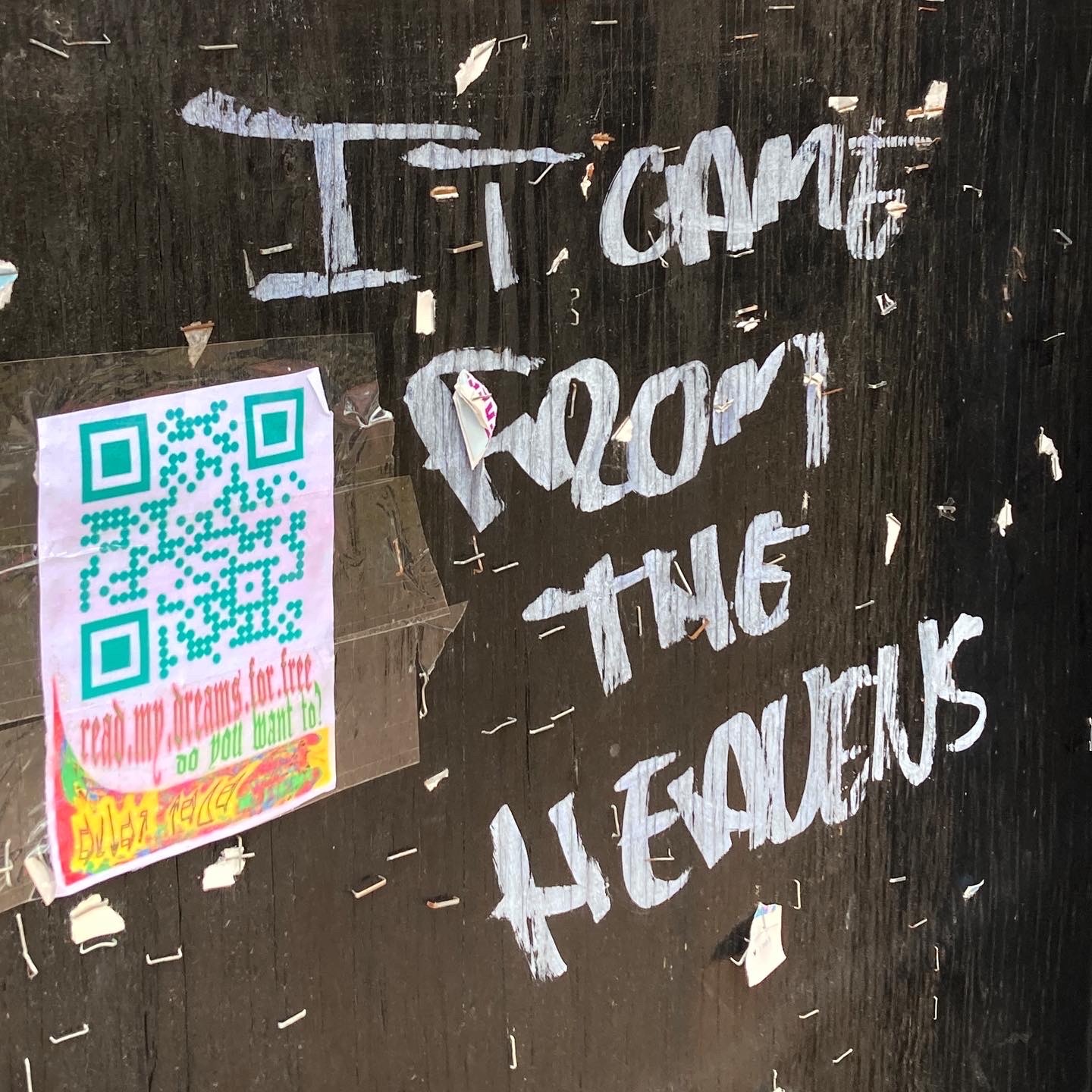 QR Magic
, 2020
QR Magic,
2020
QR Magic
, 2020
This project was an exploration of experimental information sharing. I wanted to track and analyze the spread of digital information without the use of social media through hanging art QR codes that lead to my website throughout Baltimore city. The documentation is of a digital copy of the codes themselves as well as photographs of where I hung the physical codes around the city.

Exhibition Statement
When it comes to art, I am a maximalist; I use extreme saturations of color and extreme layering of video, sound, and light. The way that I depict creatures is hyperfeminine, strongly influenced by my experimental makeup practice. I like to "do the makeup" of my creatures; I give them intricate eyeliner, sparkly lip gloss, and glue-on plastic lashes or gems that I have worn myself. It is important to me that my art manifests entities and environments that I can physically become a part of, and that those entities are a part of me, both in appearance and intentionality. When it comes to these intentions, I explore iterative cycles, consciousness, artificial intelligence, and the mystical sorcery of nature.

I hope to manipulate and replicate states of consciousness through immersive physical or digital spaces and multisensory experiences. I see my songs and paintings as environments to be traveled to, often in the form of ecosystems, like a forest, flower field, or a pool of water. Many moments in my art target dimensional ascent or descent into heavenscapes or hellscapes through perspective, addiction, or obsession. I depict the emotional effect that relationships, earthly experiences, and societal structures have on states of being through perceptual polarity under the construct of good and evil. I investigate the divine feminity/masculine, celebration/loss, and enchantment/possession.

Digital consciousness, intelligence, and the singularity are also significant themes that I consider. I love to explore the interactions and relationships that exist between humans and AI, and the ways in which the internet has shaped my entire generation's perception, identity, experiences, relationships, and interests. I like to incorporate niche aesthetics from the early 2000s to trigger nostalgia in my audience, inspired by digital cultural phenomena, software, and social networks that are desktop browser-based, like MySpace and Tumblr.

I enjoy incorporating elemental witchcraft by creating art with a magical intention, commonly protection or connection to entities like the earth, the moon, astrology, or tarot. My art creation is often a form of spiritual worship. I see art as a type of spell in itself, which inspires me often to work in ritualistic processes, and to include magical objects in my material choices, such as candle wax, crystals, and herbs that I have grown myself from seeds.

Overall, through multimedia maximalism, patterning, distorted repetition, hyperfemininity, and highly saturated color, my art dives into cyclical iterations, states of consciousness, digital life, and the spiritual magic of the universe.

Lila Church (Magicalila) is a multimedia artist from northern NJ. Through maximalism, patterning, distorted repetition, hyperfemininity, and highly saturated color, her art explores cyclical iterations, states of consciousness, digital life, and the spiritual magic of the universe. Her work comes in the form of music, painting, drawing, video, collage, net art, makeup, fibers, and performative installations. She is currently a senior in the General Fine Arts program at Maryland Institute College of Art with a concentration in sound art.