Legacies

I am the same age as my mom when she immigrated from Enmore, Guyana to New York City.

I am fueled by the power of prayer, wisdom, and diligence in my matrilineage. I confront the guilt and resentment I have with generational habits. I translate inherited legacies into my own hybrid culture that embraces the luxury it is to be a fiber artist and daughter of immigrants. I will reconnect my mom and I with our roots in Enmore. We will feel beautiful and powerful again.

I am living up to the dream my mom didn't know she had for me.

The Kitchen Jumbee
, 2020 (Black fabric and mesh, pointa broom)
The pointa broom, a domestic and feminine object, turns into an object of defense.
This costume is the start of my thesis fashion line, which will personify the jumbee, or ghosts, that haunt Guyanese women.


Images by
Quray Clarke (@okayclarkee)
Lost Love Maang Tikka
, 2021 (Chain, pearls, my great grandmother's clip)
"Tell me the number of yuh plane, when we go meet up again?"
This headpiece will be worn by a bride in my thesis line, who is haunted by a love she left behind, and dreads the mistakes yet to be made.

Zine: Legacies, Visioning the Performance
, 2020 (Collage, clay vessels, naturally dyed fabric)
In a hypothetical, but distinct vision for a performance, my sister and I wear naturally dyed garments. We methodically fill up or empty cooking vessels to allude to generational habits being broken or reinforced.

Images by
Quray Clarke (@okayclarkee)
Blue Homage
, 2019 (Bedsheets, cyanotypes, screenprints, video)
When creating a saree without having ever worn one, I consider imitation, authenticity, and agency. A white screen-printed pattern alludes to the absence of the colorful and textured embellishments found on traditional sarees.
Images by Cristy Rodriguez
Baggage
, 2019 (Pokeberry, Indigo, weaving, silk, screenprints, chain, metal)
Inherited Romantic Trauma. I am releasing what I have inherited, with an understanding that I would not have come to be otherwise.


Covering, 2019 (Turmeric, Indigo, canvas, fleece, silk, weaving, video), Video shot by Sabina Ali

My mother's prayer is a powerful force that covers me wherever I am. The motif of the orchid refers to a personal anecdote as well as a sense of femininity and matriarchy.
Image by
Quray Clarke (@okayclarkee)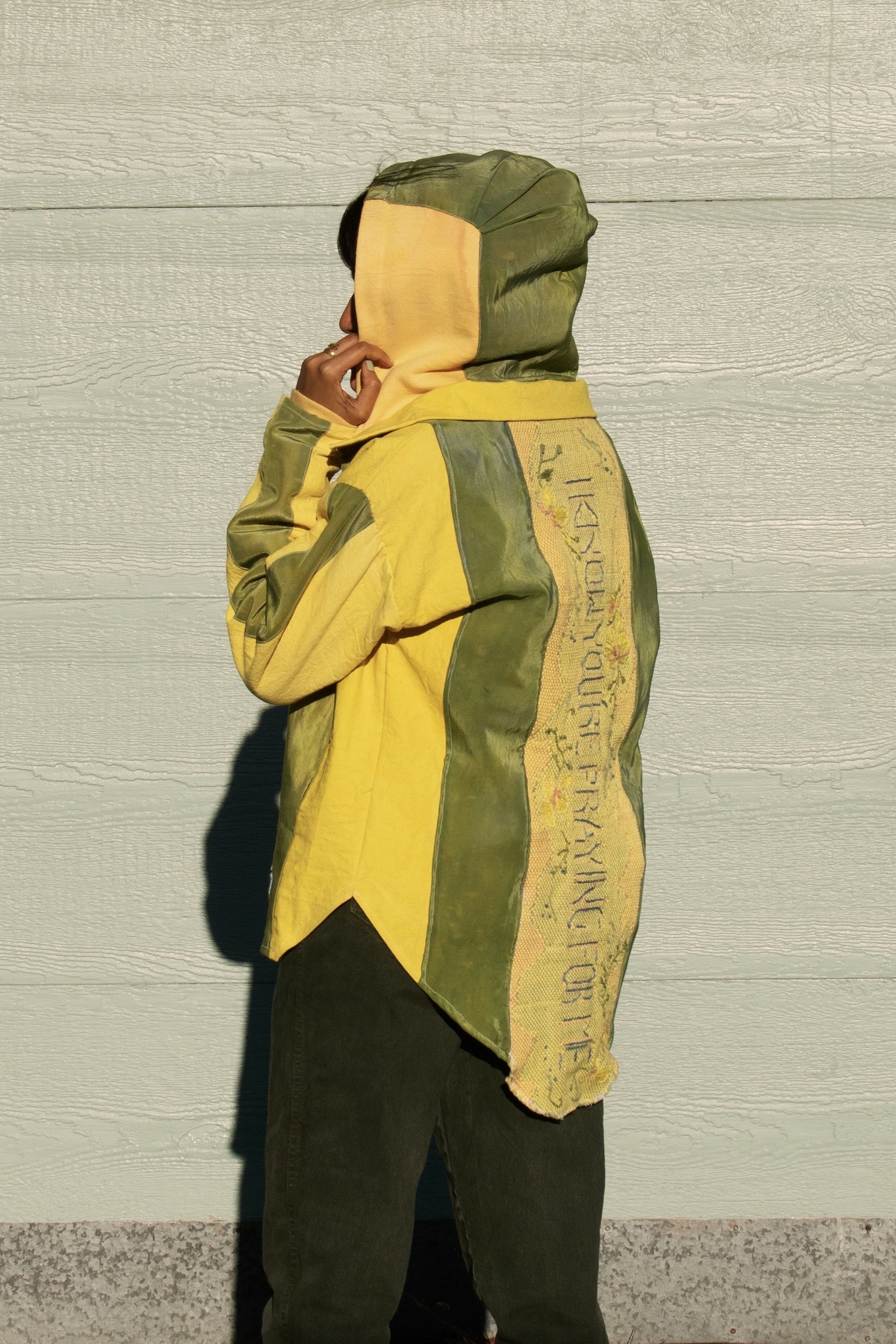 Image by Faith Chamblee
My Mother's Replica, 2019 (Wood, clay, paint, satin, projection, video)

My mother is the mold and I am the cast:
There is inevitable recognition of my mother in my face and build. I desire to embody her through the gold jewelry she has passed down to me, but I have an urgency to make sure that I avoid her legacy.

Memory as Peripheral Vision, 2019 (Video)

Beyond the edges of the facetime call is a peripheral view of my home, which I can recall comfortably from memory. On my mother's side of the call, there is no peripheral view, and barely a "straight-ahead." There is comfort in knowing that the space between my peripheral vision and my mother's "straight-ahead" is a couple state lines, five hours, $25, and one call.

Jasmin Ali is a fiber artist from Queens, NYC. Her work revolves around garment making and natural dye. She is a first-generation American, and identifies as Bengali and Indo-Caribbean from Guyana. Right now, her work is focused on the generational habits, or legacies, that she has inherited from the women in her Guyanese family.