The Ambiguous Self
Gender Self,
2017
Gender, the notion that identifies ourselves, also limits ourselves into category boxes. When examining deeply, everyone's gender identity will crumble no matter how concrete it once seemed. No one is one hundred percent of anything. There will be nothing left but a spectrum, a mixture of everything without a clear boundary.



After Home, 2019

After the artist's cross cultural experience, the definition of home becomes ambiguous. The images of the artist's hometown, which were once familiar, now appear strange as if they are filtered. By deconstructing an image taken from the artist's hometown, After Home brings out the question that the notion of home that we identify ourselves with, are as solid as we think or merely arbitrary?

Receipt Self
, 2020
Receipt Self
, 2020
In the age of "you are what you buy," it seems like anything could be sold and purchased. The consumer culture has not only changed the way we consume, but also changed the way we think: the way we interact with each other and view ourselves. Consumption has alienated us to goods, with certain qualities and values ready for being priced and exchanged. We painfully fit ourselves into endless social standards without a second doubt, only for a great deal on our "receipts."

Self in the Covid Era
, 2020
Self in the Covid Era, 2020
Self in the Covid Era
, 2020
In the beginning of 2020, the explosion of Covid-19 has changed how we interact with each other in society. The urgency of fighting global pandemic has provided a sense of togetherness but also more extreme hate towards "the other." This global pandemic would be a perfect lens to examine the idea of community: how each "self" is united and isolated at the same time.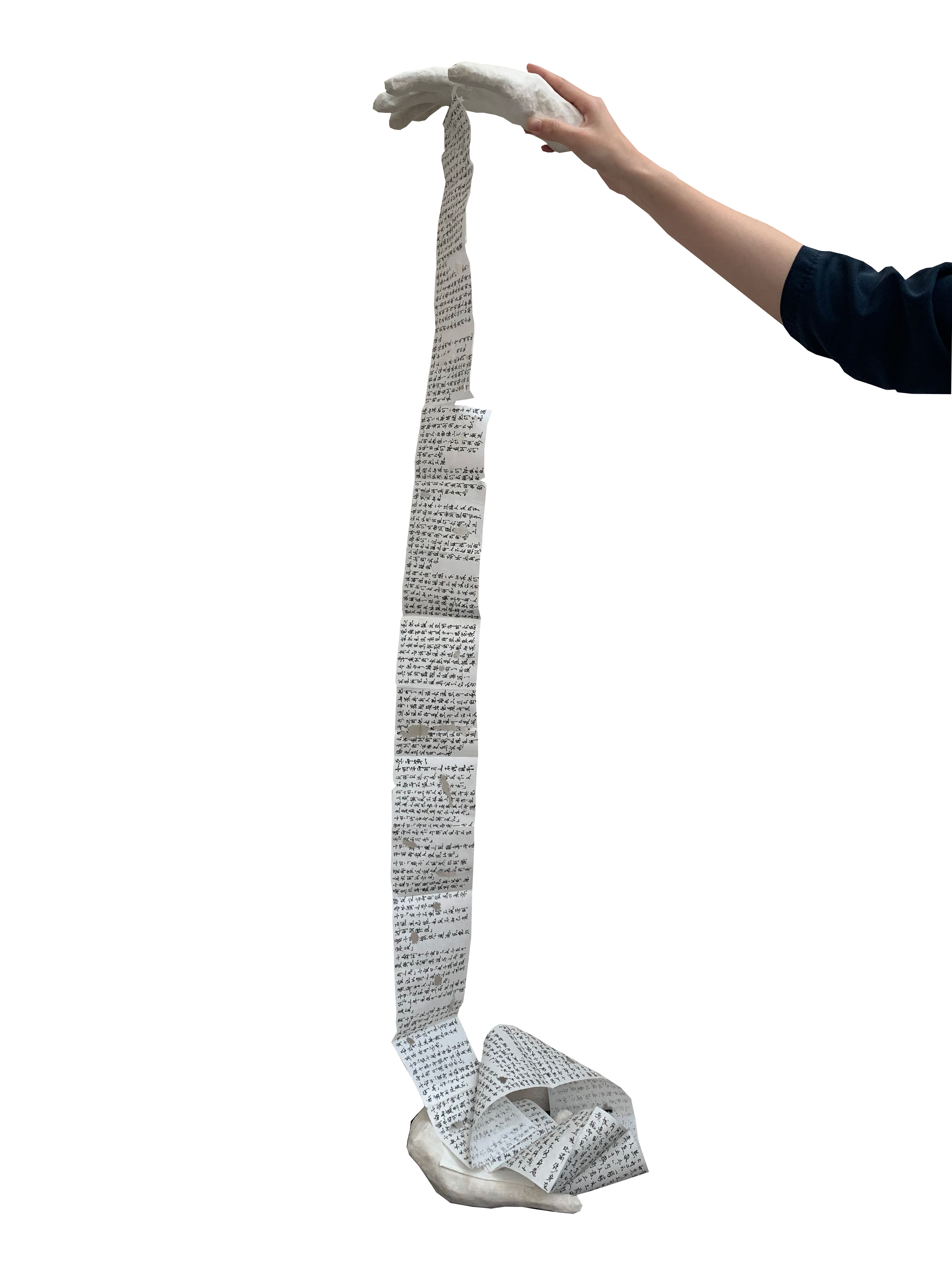 Self Reading
, 2019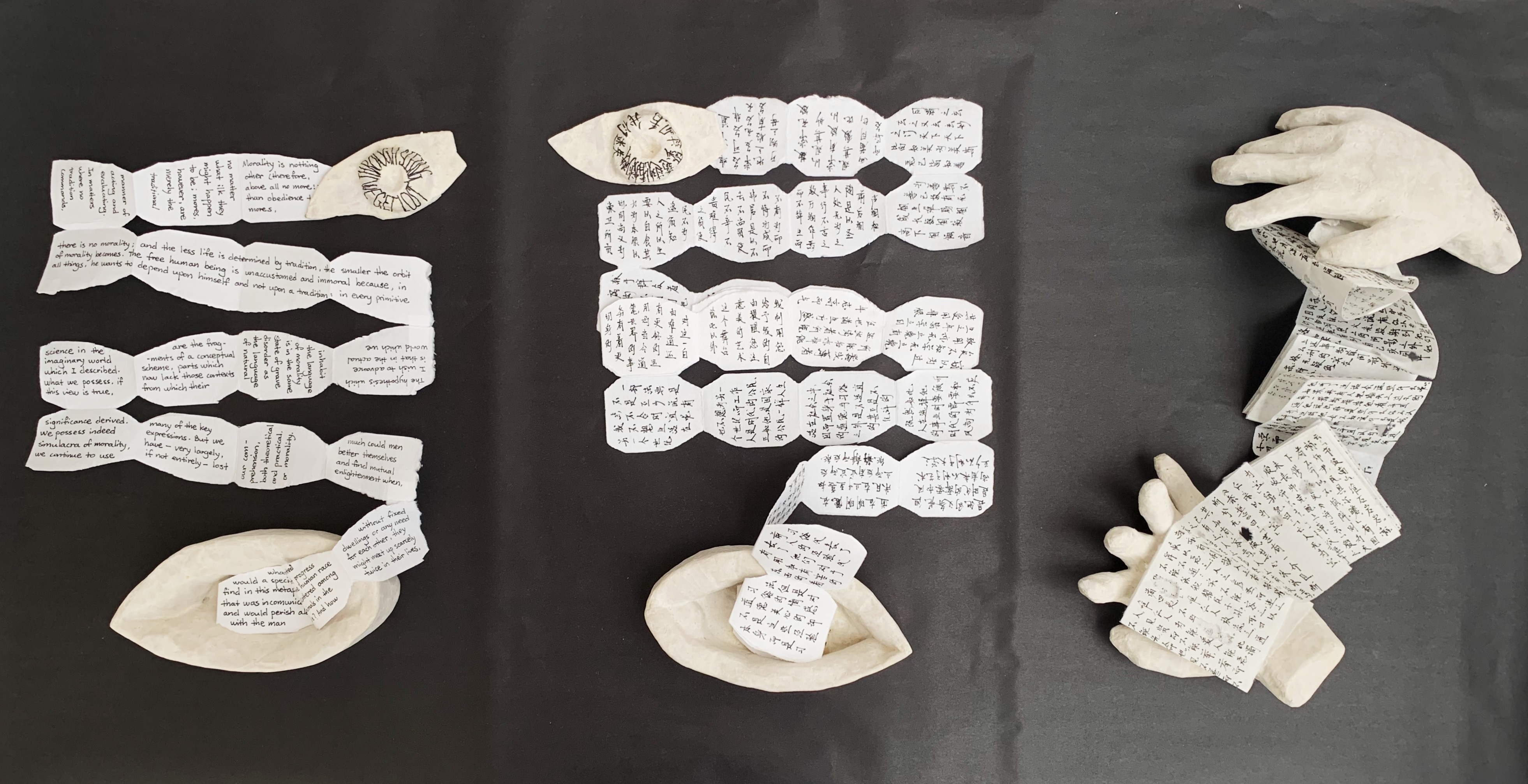 Self Reading
, 2019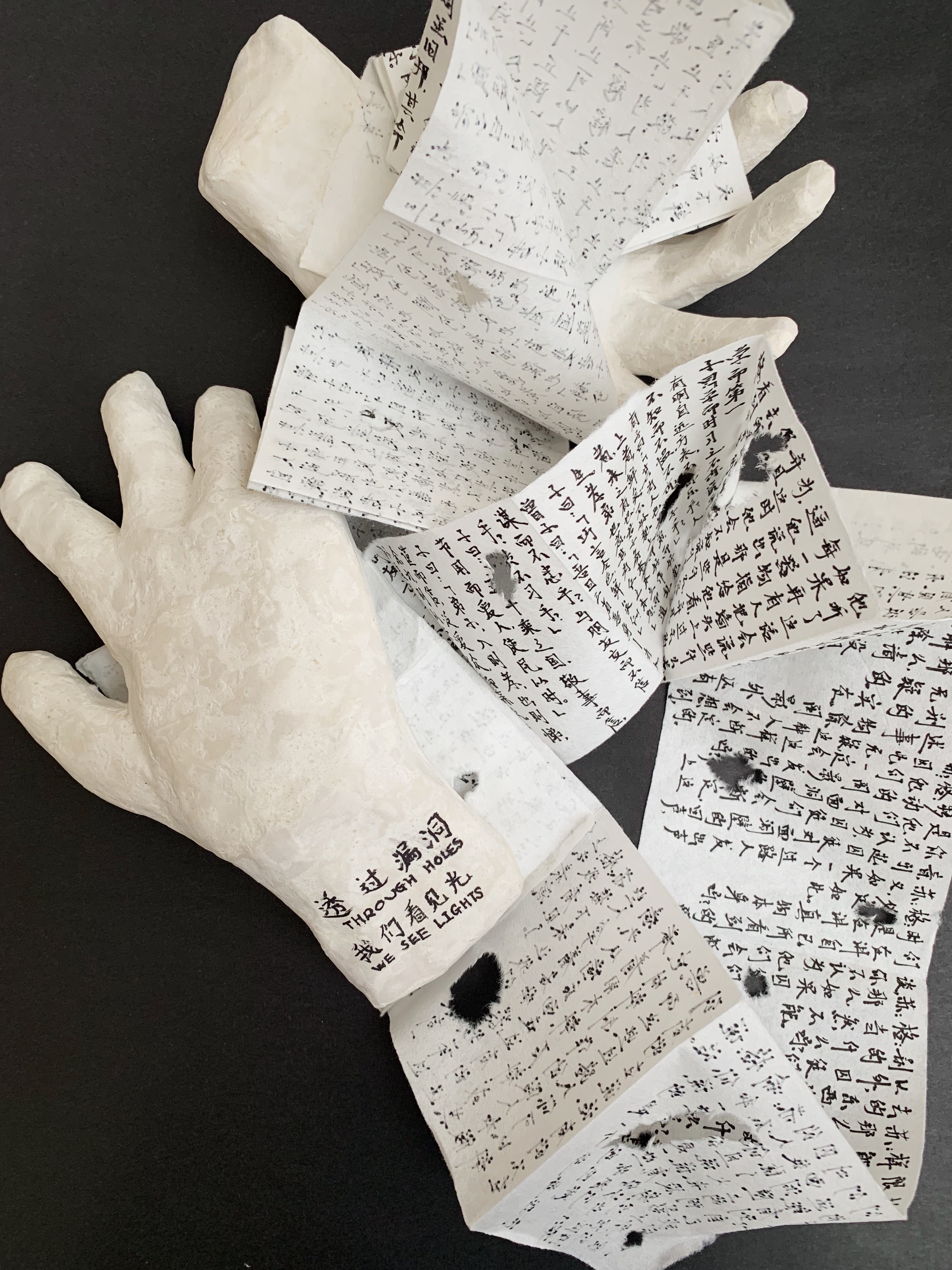 Self Reading
, 2019
Since there is no absolute, there is no absolute self. The more "self" reads, the more "self" crumbles. Through all those holes and mazes between our hands and eyes, do we see further from "self"?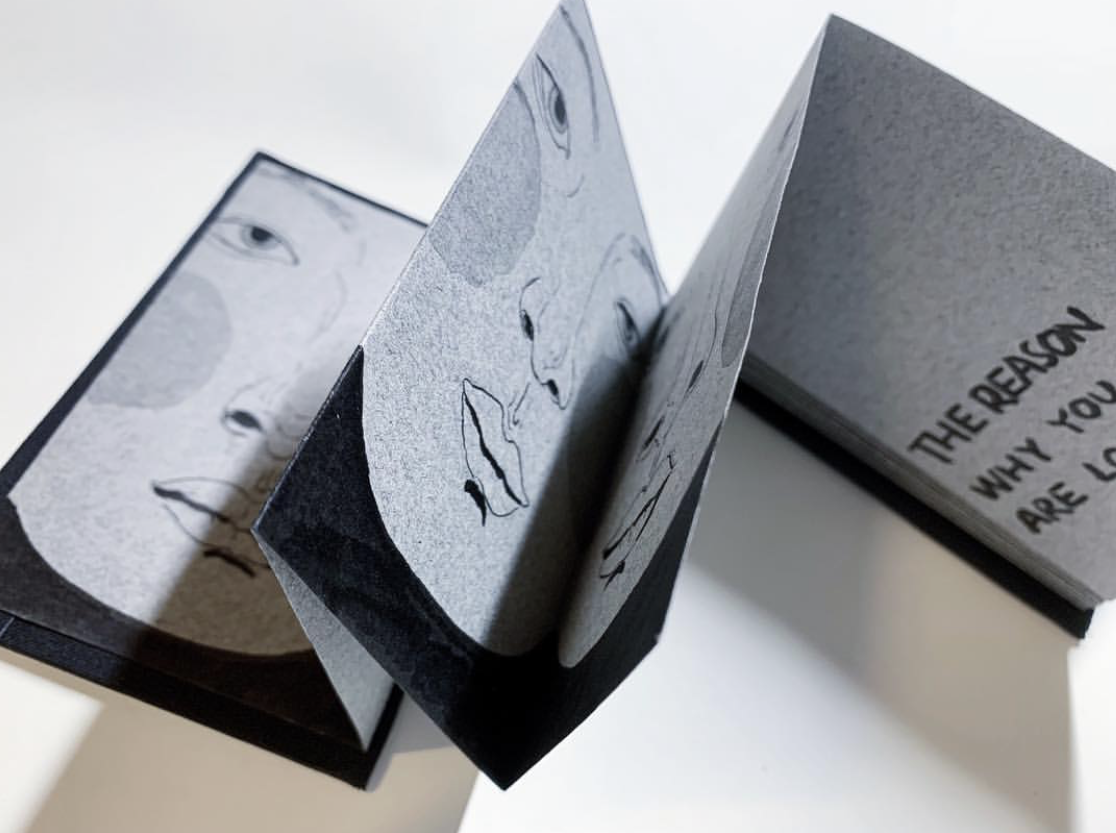 Lost in Self
, 2018
Lost in Self
, 2018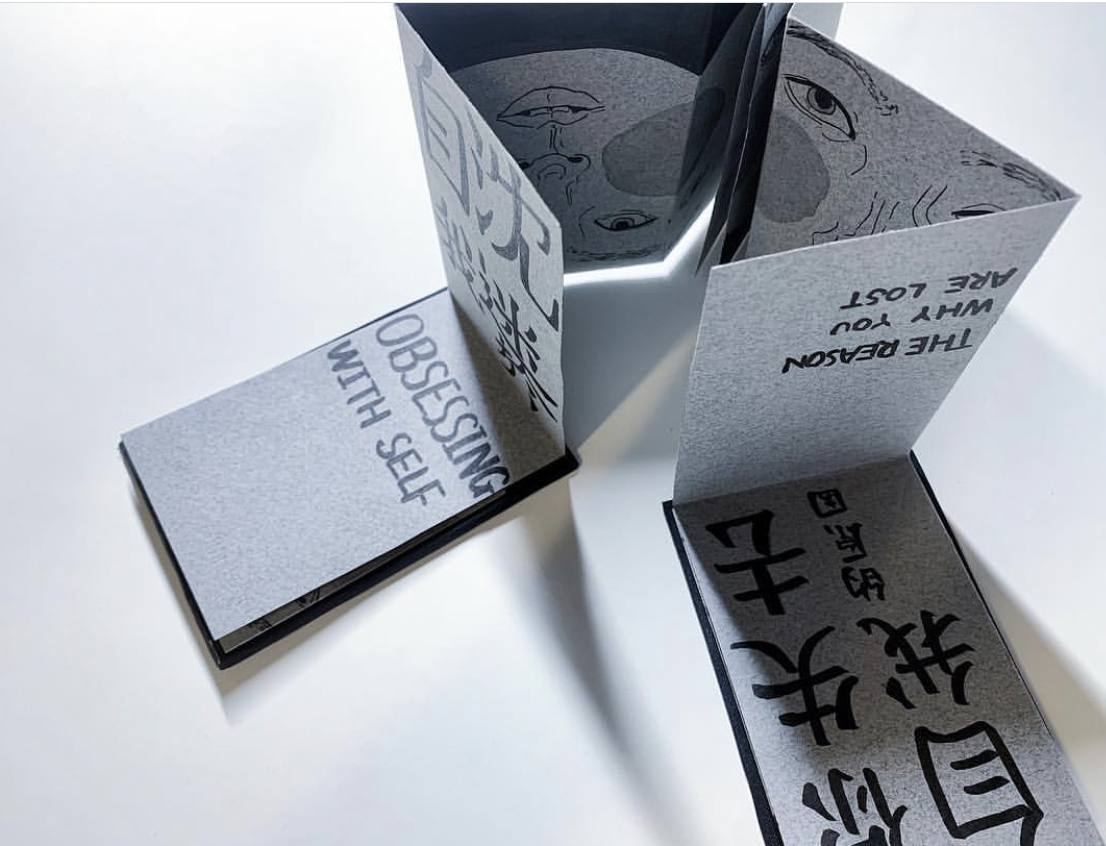 Lost in Self
, 2018
Obsession with self is the reason why you are lost.

Forty Ambiguous Self Portraits
, 2017
Each self is shaped by the environment. When our faces are covered with paper and aluminum foil or turned into mirrors, how much self there is to left?

Exhibition Statement

Self, a once concrete identity, has become more ambiguous in different contexts. It is like a running water that we are trying to hold on to ceaselessly. The communities that we identify ourselves within are in fact imagined, or in other words, lack an objective core. With the change of the contexts, the conditions of self will also change.
This body of works begins with several in-between moments of identity. Gender Self, an ambiguous reflective self portrait, examines the in-between situation when fitting into gender categories. After Home explores national identity by deconstructing and reconstructing pictures taken from the artist's hometown that have rendered the hometown to be unrecognizable. Additionally, this series explores the condition of self in social contexts. Receipt Self expresses how the idea of self mutates into products in consumer culture. A screen printed fake receipt, transfers the artist into a brand, and her personality to goods. Self in the Covid Era confronts the paradox between the need of uniting each self and the self distancing confinement during the global pandemic. The last three works, Self Reading, Lost in Self and Forty Ambiguous Self Portraits are reflections on the truth that there is no absolute self. After all the struggles of fitting in and finding values for ourselves, maybe letting go the obsession of self is a possible way out.
Chuqiao (Chloe) Li is a printmaker and book artist originally from Beijing, China. She is currently a BFA candidate for Printmaking with a minor in Book Arts at the
Maryland Institute College of Art
. She has participated in the Summer Travel Intensive for Painting at International Center for the Arts, Monte Castello di Vibio, Italy, in 2018. Her work has been collected by Dolphin Press and Print in 2019. As a teaching intern for Historical Papermaking and Book Structure at MICA, Chuqiao has designed and led the Lotus Project inspired by and responding to the Rubens Museum's "The Lotus Effect," and assisted in class teaching. In 2021, her work will be exhibited in On Paper: Printmaking, Book Arts and Beyond at Kay Daugherty Gallery, Annmarie Sculpture Garden & Arts Center. Her current work is focused on the ambiguous notion of rationality and civilization under the consumer culture.